Stormtroopers the backbone of the Imperial army. The most advanced evolution of the Clone Troopers also known as "Bucket Heads". Stormtroopers in squads or legions are deadly. Fortunately for the rebel alliance, they are not too smart. Especially when separated from their groups. Stormtroopers can't resist Jedi mind tricks or shoot rebels. (even though they're supposed to hit 77% of their targets). You can hit the spot every time with one of these great Stormtrooper Mugs.
Click Here For Stormtrooper Mugs Prices & Availability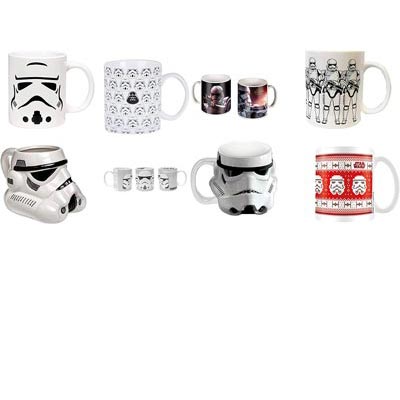 The best mug by far in this range is the 3D Storm Trooper Mug. A 3D ceramic sculpture of a Stormtrooper whose helmet has a lid to keep your drink warm. Looks so much like a genuine Stormtroopers helmet it's almost unbelievable!
Others include the Stormtrooper Head Pattern Mug. A symmetrical pattern made of lots of Stormtrooper helmets. A single Darth Vader helmet in the middle finishes the mug.
The Stormtrooper Mug Stack. Three mugs come in this set which all stack neatly into a chrome stand. Stack them all together to form a large stormtrooper montage. Made up of a large Stormtrooper helmet and Stormtroopers in battle with TIE Fighters flying overhead. Each mug has a 300ml capacity.
Other mugs include
The Star Wars Coffee Stormtrooper Mug (a parody of the Starbucks logo).
The Stormtrooper Xmas Mug. A Christmas jumper design with knitted look Stormtroopers and Tie Fighters.
The Force Awakens Mug which has the message "fight the Rebels" on the inside rim.
"You can go about your business" Mug. Decorated with black stripes, and helmet with a rectangular handle.