Mugs are an ideal Valentine's Day gift, especially when accompanied by Flowers.
The next Valentine's Day is on 14th February 2023.
Valentines Mugs are a suitable gift for both men and women whether they are your boyfriend, girlfriend, fiancee, husband, wife, partner or even that particular person you secretly admire.
Mugs last a long time, and the owner usually develops a special attachment to their mug, strengthening the special bond between the both of you.
Mugs For Valentines Day
Here is a selection of special Mugs for Valentine's day.
Emma Bridgewater Pink Hearts Mug
The Emma Bridgewater Pink Hearts Mug is an established classic, a popular Valentines Day gift for many years, featuring a scattering of tasteful Pink and Red Hearts.
The mug is available in the standard hearts design or personalised with a name.
Made from English Earthenware with a 300ml capacity.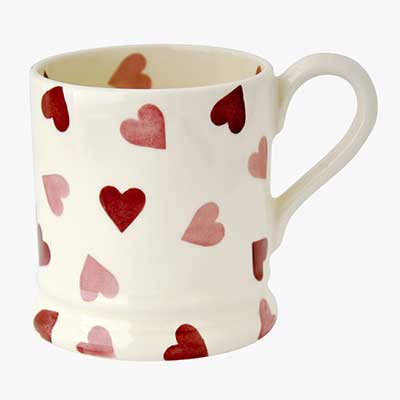 Le Creuset Heart Mug
The heart-shaped mug and saucer from Le Creuset are 'Cerise', an exciting and energising deep red colour, very apt for valentines day.
The Mug and Saucer are made from stoneware, are extremely tough and don't fade over time. The surface is scratch-resistant enamel and very easy to clean.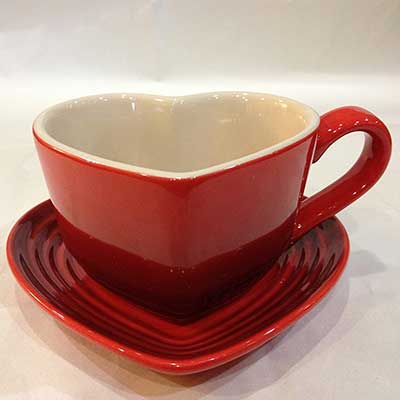 Cath Kidston Hearts Mug
The Cath Kidston Heart mug is part of the legendary 'Stanley' range with a big capacity of 500ml.
A great mug for big teas, hot chocolates and soups, a mug your partner will love.
Available in two designs red with white hearts or pink with red and white hearts.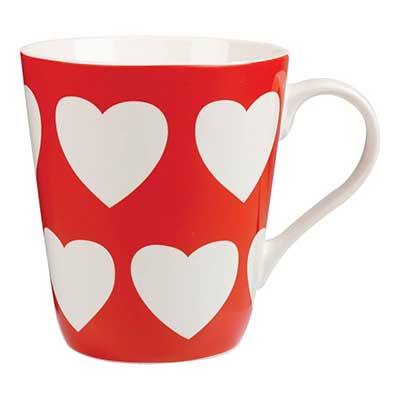 Emma Bridgewater Sweet Valentine Mug
Another perfect Valentines Day mug from Emma Bridgewater made from the same English earthenware as the hearts mug.
Decorated in roses with the message 'Sweet Valentine'
Whittard Florence Mug
A Tall pillar box red mug with white spots is ideal for partners who enjoy nothing more than curling up on the sofa after a long hard day with a cup of steaming Latte.
Made from Stoneware with a large 450ml capacity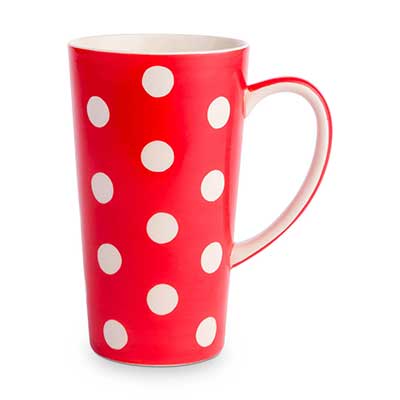 Heart-Shaped Coffee Cup
On the first appearance, this mug looks like any standard glass coffee cup. Pour in some tea or coffee and the liquid forms into a perfect heart.
The mug is made from silica glass and double-walled to keep the drink hot.
240ml Capacity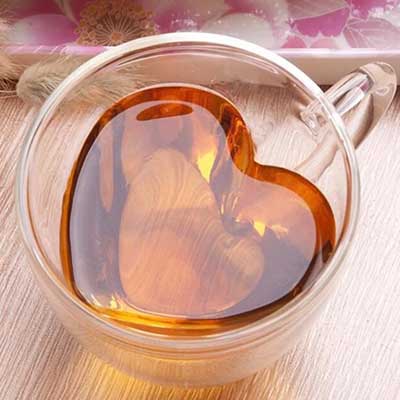 ED Signature Love Mug
The Signature Love Mug features a hand-drawn heart on a red background by Ellen DeGeneres.
The mugs constructed from Porcelain is microwave and dishwasher safe and is gift boxed for easy wrapping.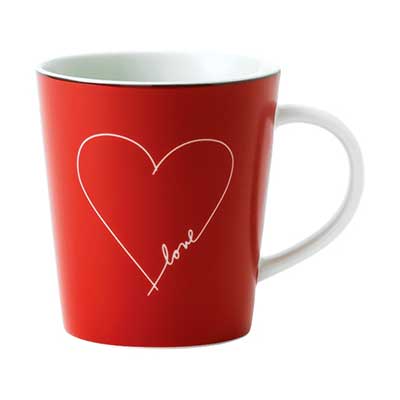 Dunoon Warm Hearts Mug
The Warm Hearts Mug was designed by Caroline Bessey and made by Dunoon with high-quality fine Bone China.
The mug features an array of hearts in different colours and is available in the shapes 'Cairngorm' a tall mug with a 600ml capacity or 'Lomo' with a 320ml capacity.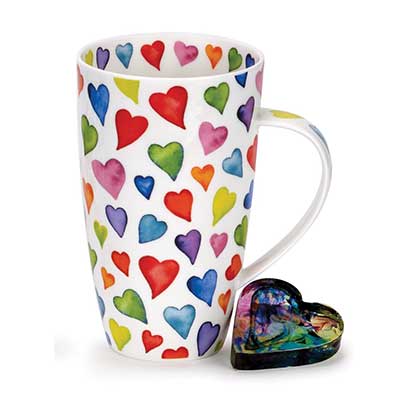 Mia Mio Kissing Mugs
Mia Mio bring us a wonderful matching pair of mugs that kiss! They are uniquely shaped to look like they're kissing and pushed together for ultra neat storage.
The mugs are opposite colours one red with a white heart and interior the other white with a red heart and the interior.
300ml capacity and Gift boxed.
Sass & Belle Sweetheart Enamel Mug
Does your partner enjoy outdoor pursuits such as camping and hiking? If yes then the Sass & Belle Sweetheart Enamel Mug will make a nice valentines gift.
The Enamel Mug features a big red heart on a white background and is ideal for use outdoors or in.
Froster Heart Magic Mug
The Froster Heart Magic Mug is heart-shaped, bearing 'Guess What?'
Add hot liquid, and the message 'I Love You' appears and hearts and a butterfly.
The mug has a 300ml capacity and is gift boxed.