Want some fine quality luxury mugs that look and feel expensive, will impress your friends and are an absolute joy to drink from?
Look no further than Wedgwood Mugs
Wedgewood has been making tableware for over 250 years. A real iconic English brand which over the years have served royal families, heads of states, celebrities and hundreds of thousands of regular people across the globe.
Classic designs are created at the Wedgwood studio in Staffordshire the pottery hub of the UK.
Wedgwood sticks true to its traditional designs while taking inspiration from patterns all over the world to create delicate, highly detailed tableware from fine bone china.
The most beautiful mugs in the world? Probably.
Click Here For Wedgewood Mugs Prices & Availability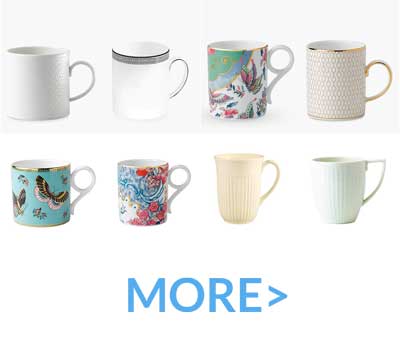 Edme
One of the oldest mug designs in the UK, the patterns been around for over a century. Elegant Georgian style shapes and motif replicated from the original Wedgwood archive from the 18th-century.  Constructed from smooth earthenware.
GIO
The Gio a pure white fine bone china mug with an embossed hexagon and line pattern going around the circumference of the mug.
Hard-wearing mugs designed for the rigours of everyday use 300ml capacity.
Intaglio
A fusion of classical and contemporary patterns which were common in the Georgian era. Inspired by knurls and the turning of engines
There are several different patterns on the mug which look beautiful and feature a tremendous built-in grip as well.
A slimline handle and platinum Rim finishes off the design. Made from bright white fine bone china with a modern glazed finish. 350ml capacity.
Mythical Creatures
A fine bone china mug designed by Kit Kemp. This gold-rimmed mug features many colourful mythical creatures Inspired by classic folklore.
The mugs adorned with multiple creatures of friendly primitive designs. 320ml capacity.
Wonderlust Yellow Tonquin
Bright yellow background with exquisite floral pattern with lots of leafy greens, a large pink flower in the centre reminding you of those brights sunshine-filled days of summer. 300 ml capacity this mug's not microwave or dishwasher safe.
Wild Strawberry White Mug
Pure white fine bone china mug with an embossed floral pattern gives this mug a lovely feel all over in the hands and on the lips. Suitable for microwave and dishwasher
Wonderlust Rococo Mug
Heavily inspired by Rococo arts with white pastel colours asymmetry and scrolling curves. Hexagons and dots at the top and bottom of the mug, a floral pattern around the middle with plenty of white space. Gilded in places with a scroll handle.
Wonderlust Blue Pagoda Mug
Utilising an Oriental Style and French Navy background, this oriental garden-inspired pattern features temples, islands mountains palm trees and more with a sleek blue pattern. 300ml capacity, supplied in a blue gift box.
Wonderlust Camellia Mug
The Wedgwood cameo fused with oriental floral pattern background features a gold Rim at the top base. Finished with an elegantly shaped handle.
Wonderlust Oriental Scroll
Another oriental pattern on fine bone china utilising peony Jasmine with greens and golds. A few flowers for good measure precisely what you would expect from a Wedgwood design.
Wonderlust Crimson Jewel
Small Chinese flowers on an imperial red background, gold features in the pattern also. Fine bone china construction with the classic scroll handle.
Wonderlust Butterfly Dance
This map was originally part of the archive collection and now resides within the Wonderlust collection which connects Europe and Asia in a fusion of floral designs And oriental artwork
The Butterfly dance mug features exquisite butterflies happily flying on a turquoise background.
Winter White Mugs
A set of 4 mugs with silver patterns on a white fine bone china background. The mugs have been gilded with silver the patterns include a Christmas tree, wreath, mistletoe and holly. Every mug's unique, supplied in a Wedgwood gift box.
Paeonia Blush Mugs
Paeonia Blush Mugs inspired by the Orients many beautiful flowers, lilies and birds. Made from fine bone china, features a scroll handle.
Available in colours blue, coral red and green
Butterfly Bloom Mugs
Butterfly blue mugs with butterflies in floral patterns science bring some calm to the rush of everyday life. Various designs are available finished with a luscious gold gilding
Tea Garden Mugs
Tea Garden mugs which can match up to your favourite type of tea, various, colours available including Green and lemon tea each designs combined with flowers and leaves like an actual English garden. The raspberry tea garden mug is very eye-catching with colourful flowers, raspberries and rosehips. The tea garden range clearly shows Wedgwood's history of tea infusions and floral patterns.
Rose Gold Mug
English rose combined with gold, possibly the most enticing designs in the Wedgewood archive range. These fine bone china mugs feature a classic gold border and gold plated handle.