Wrendale mugs are designed by the award-winning artist Hannah Dale. Wrendale designs have expanded its range of products in recent years. The new country kitchen range includes these wonderful mugs.
Wrendale Mugs are made by Royal Worcester part of the Portmeirion group. Royal Worcester was established in 1751 and obtained their 'Royal' warrant in 1788. Royal Worcester is the first or second oldest potteries in the country. No one knows for sure, but one thing's for certain Royal Worcester make high-quality products which include these fine bone china mugs.
Inspired by outdoor life in the Lincolnshire countryside, every mug features an animal that's resident in this part of the world. Each mug has a different image on the front and back. On the inside rim, you'll find the third image.
Click Here For Wrendale Mugs Prices & Availability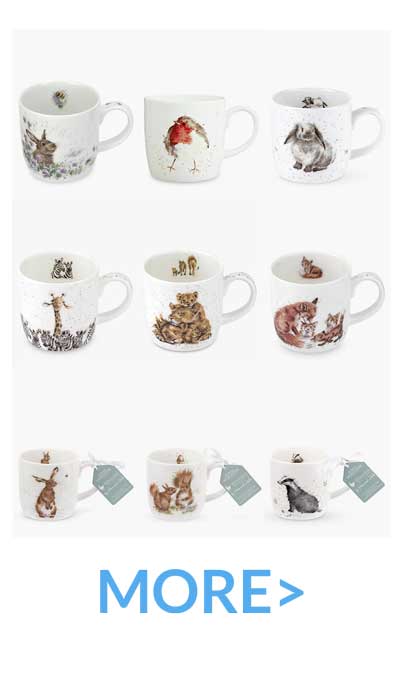 Made from fine bone china
300ml capacity
Microwave & dishwasher safe
Made by Royal Worcester
Over 50 designs to choose from
Wrendale Mug Designs
Aged To Perfection – This ancient tortoise is perfect in every single way.
All Wrapped Up – The goose and robin got their scarves on for this cold Winters day.
Artful Poacher – The sly old fox walking, sitting and sleeping.
Awakening – A hedgehog awakes from his hibernation slumber.
Bamboozled – A lovely panda sitting eating bamboo shoots.
Bath Time – Ever seen a hare in the bath?
Between Friends – Squirrel share acorns.
Birds Of A Feather – Two owls have a hug.
Born to Be Wild – The fox cub the wildest animals of the Lincolnshire countryside.
Boxing Day Walk – Nothing beats a boxing day walk with your favourite dog and favourite wellies.
Cat And Mouse – They can be friends, yes, really.
Charlie And Rose – Two adorable teddy bears.
Christmas Cracker – This duck loves Christmas crackers so much there's one in his beak.
Country Gent – The badger the perfect country gent.
Country Mice – A little brown Mouse having fun in a dandelion.
Curious Hen – The hen, the most inquisitive bird on the farm.
Dachshund Through The Snow – Ever seen a sausage dog with antlers?
Devotion – Golden Labradors are the most devoted of all dogs.
First Kiss – The giraffes first kiss always special.
Flowers – A giraffe with flowers in his mouth.
Frenchie Fighting – The quiet but loving French Bulldog.
Game Bird – Features a beautiful drawing of a pheasant.
Garden Friend – In the depths of winter, who's your best friend in the garden? The robin, of course.
Gi Gi – Decorated with a mighty horse.
Good Hare Day – Every day's a good day when you're a Hare.
Goosey Goosey – Lots of gooses feature on this mug.
Guard Duck – The Drake on guard and ready to strike.
Guinea Fowl – Also known as the speckled hen or the original fell.
Hanging Around – Sloths love hanging around, and this one is no exception.
Hare And The Bee – The curious hare watches a buzzing bee.
Harebrained – The Hare looks a little confused, but he's cute nevertheless a best-selling design.
Hello Sausage Dog – A Dachshund Hound is sitting on his hind legs then standing and finally sitting. An intelligent and friendly breed although at times stubborn.
Highland Cow – A Highland cow is showing off his sharp antlers.
Just Hatched – These cute little chicks have just hatched.
King Of The Coup – Cockerel is king showing his best front and his best site.
King Of The River – A Kingfisher, waits for his next catch. A stickleback sits on the inside rim.
Lady Of The House – A black and white drawing of a cute fluffy cat.
Lettuce Be Friends – Two guinea pigs share the same leaf of lettuce.
Orangutangled – A baby orangutan tangled up in her mother's arms.
Out On The Town – Three smart fluffy penguins waddling in a formation.
Owl I Want For Christmas – All I want for Christmas is an Owl wearing a Santa hat.
Park Love – Adorable puppy in the sitting and standing position.
Pink Ladies – A formation of tall and proud flamingos.
Poppy Field – A content Fox presents in a poppy field.
Prickled Pink Mug – The hedgehogs getting rarer they need looking after.
Quackers – featuring ducks and geese from the farmyard.
Redhead – The red squirrel, can only be found in five counties in the UK and on this mug.
River Gent – The humble Otter which has made a return to our rivers in recent years.
Role Models – What better role model than a baby elephant?.
Rosie Mac – Featuring Rosie, the hare.
Snug As A Pug – A pair of pugs wrapped up nice and warm in a hat and scarf.
The Christmas Kiss Hare – Another popular Hare design especially for Christmas.
Three Of A Kind – Three koalas are sitting in a line hugging each other, the front Koala's hugging a tree another has purple butterfly perching on his nose.
Toucan Of My Affection – A colourful Toucan sitting on a flowery branch
What A Hoot – This barn owl's is a real hoot.
Wild at Heart – You can't get any wilder than the wild deer.
Winter Mice – Three cold mice on a bow of Holly.