Xbox Mugs a must for any serious gamer. What better way to drink your tea or coffee while playing your favourite Xbox games than with an Xbox mug. Maybe your not a gamer but know a serious gamer who needs gifting? Look no further.
The Xbox is the third most popular games console of all time. While the Playstation is the best selling console studies have claimed that Xbox players are better at playing games than Playstation players.
As an Xbox player you're the best and so deserve an Xbox mug.
Xbox Mugs are made from Ceramic and have capacities of 300-400ml.
Click Here For Xbox Mugs Prices & Availability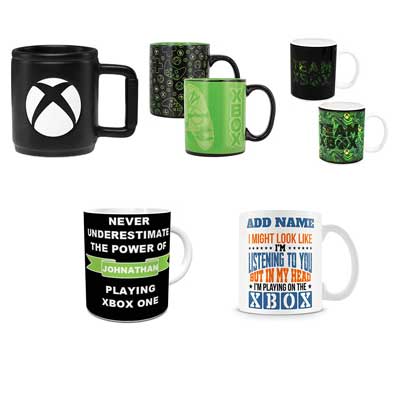 Xbox Mugs Include
Heat Change
A black mug with Xbox green controllers and buttons on the outside add water and a green Xbox motif and large controller appear.
Customised
Add your name at the top of the mug then this message follows 'I might look like I'm listening to you, but in my head, I'm playing Xbox'.
Eat Sleep Game
White mug with blue interior and matching writing outside 'Eat, Sleep, Game" picture of controller and room for a customised name.
Never Underestimate
The mug's written with 'Never Underestimate The Power Of (your name) Playing Xbox'.
Paladone
A chunky unique shaped black mug with Xbox logo in white on the mug and handle.
Xbox Mug, Coaster & Keyring
A complete gift set which includes Xbox mug and Xbox logo coaster and keyring.
Team Xbox
Team Xbox heat changing mug changes from black to Xbox green once water's poured in.