A Yeti is an ape-like snow creature of Himalayan legend. A Yeti is considered mythical as no photos have ever emerged of one. Even so, there have been numerous sightings. The Yeti is the 'bigfoot' of Nepal.
Unfortunately, we won't be able to give you a real Yeti. Not even a photo of one. We can, however, give you the next best thing, a Yeti Mug.
Yeti Mugs are extremely well-made travel mugs and cups made for the rigours of outdoor life. They'll keep your drinks hot or cold for many hours.
Click Here For Yet Mugs Prices & Availability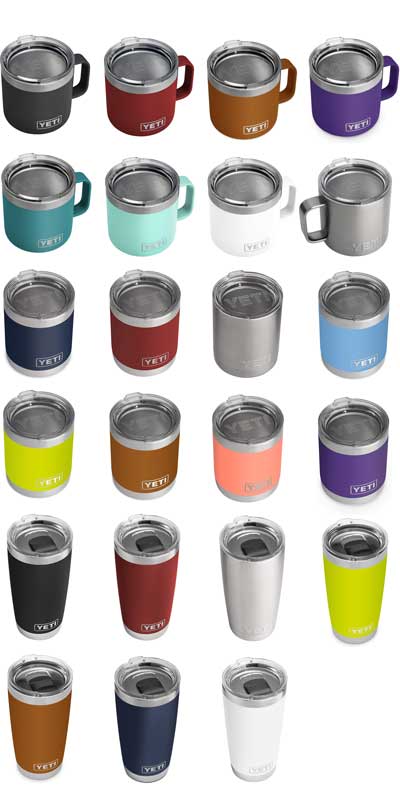 Featuring an over-engineered, double-wall vacuumed insulated body that's shatterproof. The mugs are supplied with a standard 'Rambler' lid. Yeti Mugs are compatible with 'Mag Slider' lids which feature a convenient magnetic sliding mechanism which stops spillage and keeps the contents hot or cold.
Yeti Mugs Are Available In The Following Sizes
10oz – 295ml
14oz – 400ml
24oz – 700ml
Yeti Mugs Are Available In The Following Colours
| | | |
| --- | --- | --- |
| Northwoods Green | Navy | Black |
| Ice Pink | Copper | Graphite |
| Chartreuse | Sea Foam | White |
| Reef Blue | Peak Purple | Stainless Steel |