Zebras are one of the most recognisable animals among the general population. They're well known Because of their black and white stripes. Likened to a black and white striped horse. Or Donkey. Zebras are social animals, so what better way to get social at teatime than with a Zebra Mug.We have lots to choose from, and you won't get 'striped' up on price either.
Click Here For Zebra Mugs Prices & Availability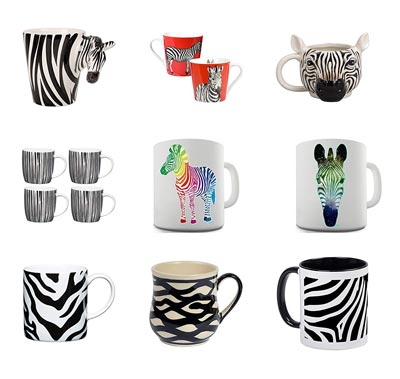 The Hapileap 3D Zebra mug's decorated with a stripey Zebra body and a 3d zebra neck and head for the handle. Very Clever! This mug, yet, can be tricky to hold. Ergonomics wasn't the first consideration with this design.
The Queens Couture Kingdom Bumble Zebra Mug's from fine china. One side has a side view while the other side has a front view of a zebra's head. The imagery is modern and classy on this mug which is microwave and dishwasher safe.
Next, we have a large 3D Zebra Head mug with a 400ml capacity. The mug features a protruding 3D nose and ears with a generous drink opening at the top. This mug's handpainted so please don't microwave. Handwash only, please.
Twisted Envy has added a new twist on the Zebra Mug with a rainbow coloured zebra print. Great for those bored with traditional black and white. Finally, for the zebra print fans, we have a few zebra stripe mug designs various sizes.