Le Creuset Mugs are among the toughest Large Mugs available on the UK market. Le Creuset Stoneware in the trademark retro colours is a firm favourite in the kitchen (both domestic and commercial) in over 60 different countries.
As soon as you pick one of these mugs up, you'll feel the high quality in your hands, and due to the particular manufacturing process, everyone made has had handcrafting included.
Click Here For Le Creuset Mugs Prices & Availability

Le Creuset Mug Features
Made from a unique clay mix that's fired at the highest possible temperature
Made by artisan potters for nearly a century, Le Creuset Stoneware mugs are solid and come with a 10-year guarantee. Giving you peace of mind that you're buying a mug that'll likely last you a lifetime
These mugs won't fade or chip. So it's unlikely they will break, even when dropped.
Le Creuset Mugs have excellent thermal resistance. As a result, they will keep your drink hot for longer than most other mugs.
Enamelling ensures the mug won't scratch and is easy to clean
The mugs feature a small comfortable handle and three grip lines at the base. For those who prefer to hold a mug in the hands
Microwave, freezer, fridge, dishwasher, oven and grill safe.
Mug Styles
There are three main kinds of stoneware mugs from Le Creuset The Stoneware Mug, The Grand Mug and The Espresso Mug. There is also a stainless steel travel mug and several special-edition mugs.
Le Creuset Stoneware Mug – 350ml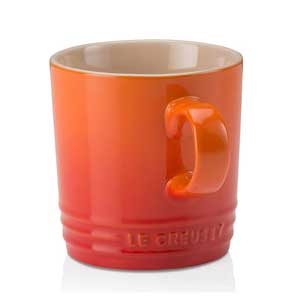 The stoneware mug is the original and most well-known shape, A modern yet timeless style put together by skilled craftsmen. The 350ml volume makes this the ideal size mug for tea and coffee, and the vibrant colours on offer will brighten the mood of any kitchen.
Le Creuset Grand Mug – 400ml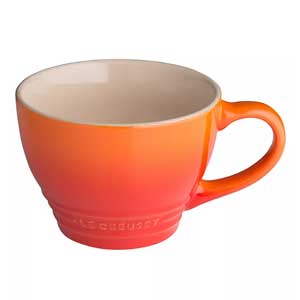 The Grand Mug's slightly larger than the stoneware mug has a 400ml capacity, which makes it well suited for larger hot drinks and soup. The grand is a 'coffee mug' shape with a broader top compared to the stoneware mug.
Le Creuset Espresso Mug – 100ml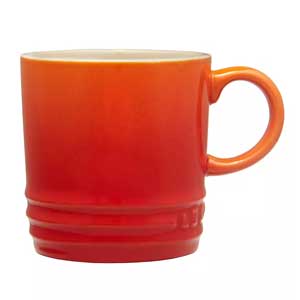 Le Creuset Espresso Mugs are the right size and shape for any double or single shot of Espresso or even a macchiato. A compact version of the best selling stoneware mug with a 100ml capacity. The typical thermal retaining characteristics will hold the coffee at just the right temperature. These mugs are also well suited for small desserts and homemade yoghurts.
Le Creuset Cappuccino Mug – 200ml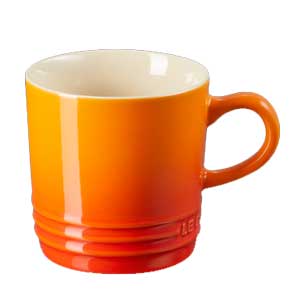 The Le Creuset Cappuccino mug is the perfect size of 200ml. The mug will accommodate 160ml of Cappuccino (the correct size as set out by the Italian Espresso Institute) and some milk. The mug's also ideal for Mocha, Affogato, Flat White, a true Americano and Irish Coffee.
Mug Colours
Le Creuset Mugs are available in 14 different retro colours. Here are all the colours available from Le Creuset, as well as descriptions of what the colours represent and what other colours they go well with so you can perfectly match up the tone of the mug to the decor of your home and kitchen.
Almond
Almond's a natural colour, a light beige representing effectiveness, joy, sweetness, purity, charisma and delicacy. Almond will have a calming effect on you and work best with all grey and some creamy white decor, a good choice for the modern home.
Cassis
Cassis is a dark greyish purple representing luxury, freedom, a sense of mystery and magic. The colour makes one feel mystical, spiritual, and imaginative. Cassis harmonises with Pink, orange, bronze, grey and some greens. If the tone of your home is a bit off the wall, then the Cassis mug should be a good choice.
Cerise
Cerise is an intense Red Rose colour representing love, devotion, romance and vigour. Cerise pushes you to feel energised, excited so a perfect mug for the first brew of the day when you need to get up and go. Cerise is a versatile colour that will work with contemporary and brightly decorated homes; it will go well with black, white, yellow, gold and green.
Coastal Blue
Le Creuset Coastal Blue is a soothing gradient colour representing trustworthiness, faithfulness, intelligence and self-confidence. The colour will remind you of the ocean, thus making you calm, relaxed, peaceful and at ease. Coastal Blue's mixable with neutral tones such as white, beige, black and grey.
Cotton
Cotton is the whitest of all colours in the Le Creuset mug range. The subtle colour exemplifies cleanliness, purity, light, warmth, understanding, and perfection and will help you feel confident and booming. The Cotton mug is appropriate to use in combination with any colour.
Flint
Flint's a dark grey almost off black colour made for those with unique colour schemes or who don't have any colour preferences at all. A very conservative but sophisticated colour that some see as formal and emotionless, a neutral colour that won't make you feel anything. Flint is the ideal companion to cool colours such as blues, whites, greys and some purples and greens.
Marine
Marine's a cool dark blue that symbolises intellect, belief and honesty. Psychologically dark blues will stimulate clear thought, making this a great work mug. Use the Marine mug in combination with white, cream, brown, grey and black kitchens.
Marseille Blue
Marseille Blue is a brighter, more solid blue than the subtler Marine, or Coastal Blue's. This colour symbolises credibility, loyalty, knowledge and positivity, Triggering calmness and feelings of being carefree and relaxed. These mugs will fit in perfectly in the neutrally decorated household.
Pink
Pink represents pleasantness, fun, romance, captivating, and feminity, bringing feelings of positivity, comfort, and hopefulness Pink goes well with blacks, blues, dark greys, and most reds.
Rosemary
This mug is inspired by the herb Rosemary an evergreen colour representing rebirth, nature, vitality, progress, tranquillity and fertility. This soothing colour will bring on a sense of calmness and add a natural vibe to your kitchen. Most shades of the primary colours are fine to use with Rosemary green also orange, purple, and most browns work well.
Satin Black
A satin black matt finish mug shows influence, capability, authority and elegance, a colour often used in high-class products. Black can produce both positive and negative feelings and will interact with any other colour.
Soleil
A bright gradient yellow that's naturally uplifting and often stimulates excitement and motivation, Soliel signifies freshness, positivity, clearness, and vitality. It defiantly will work together with black, light and navy blue, green and grey.
Teal
A lovely mid blue that connotes sophistication, intelligence, serenity and creativity, making you feel tranquil, calm, balanced and peaceful, Teal is an excellent colour for when it's time to relax. It's a well-used shade in the British home and will look great combined with black, white, pink, brown, cream, navy and gold.
Volcanic
Volcanic's Le Creuset's trademark colour is a vibrant orange. A combination of the liveliness of red and delightfulness of yellow. Volcanic represents energy, enthrallment, joy, creativeness, commitment, attraction, achievement and adventure, making you feel energetic and inspired. This colour combines well with yellow, green, blue and Pink.
Rose Quartz
The latest addition to Le Creuset's colour range is Rose Quartz's inspired by pink roses, a solid colour that can be given as a gift to show appreciation, sympathy, gratitude and of course, romance.
Click Here For Le Creuset Mugs Prices & Availability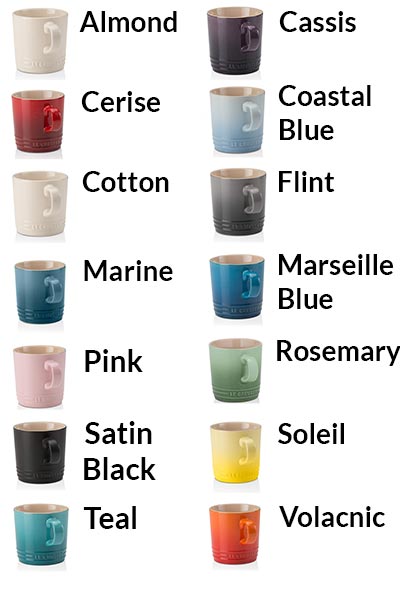 New Colours
Le Creuset has recently added some new colours to their mug range. These include
Bluebell Purple
Cool Mint
Deep Teal
Dijon
Fig
Juniper
Meringue
Sage
Shell Pink
Le Creuset Special Edition Mugs
Heart
The Heart Mug released for Valentine's Day is heart-shaped stoneware mugs with matching saucers in the usual colours and subtle pinks. These are not only for the wife or girlfriend. These will make a lovely gift for weddings, anniversaries, birthdays or mothers day.
Snowflake
The Snowflake Mug is the classic stoneware decorated with snowflakes. These versions are great Christmas presents. In addition, a snowflake stencil's available for the Grand Mugs, allowing added icing sugar or cocoa on top of coffee or cappuccino, giving that special barista effect in the shape of a snowflake.
Sakura
The Sakura Mug's ornamented with gold accents and cherry blossoms, the customary Japanese icon for springtime, was released to celebrate Le Creuset's 25 years in Japan. Warm pink colour and one-off bistro shape.
Sorbet
The Sorbet Collection is a set of six mugs utilising pastel colours inspired by the delicious treats sorbets, candy floss and ice cream. Colours include the classic Le Creuset Coastal Blue and Cotton and special edition Chiffon Pink, buttery yellow, Mimosa and Dune. A subtle yet lively collection presented in a candy-striped gift box.
Le Creuset Travel Mug
Now you can enjoy superior french craftsmanship on the move with the Le Creuset Travel Mug. A Fully insulated double membrane of Stainless Steel and vacuum sealing will keep your drink extremely hot or cold.
Features a Volcanic coloured lid with a flip-top to drink from. The flip-top secures in both open or closed positions with a simple click.
The base features a non-slip silicone ring making this cup very hard to knock over.
All plastic parts included are made from BPA free food safety grade plastic
350ml capacity
Handwash only (don't use in the microwave or dishwasher)
5 Year Guarantee
Le Creuset mugs are microwave, freezer, fridge, dishwasher, oven and grill safe. However, some care is needed when using these mugs with appliances.
The mugs are oven safe up to temperatures of 260°C which covers all domestic ovens but not industrial ovens which can utilise far higher temperatures, and remember always to use oven gloves. Hot stoneware will burn you otherwise.
Whenever using a mug beneath the grill, allow for a gap of at least 6.5cm between the top part of the mug and the grills heat element.
When using the microwave, be aware that the mug will be hot when finished, so take care and allow a short period after microwaving before picking the mug up.
The mugs are not suitable for use on a hob or barbecue.
Le Creuset 10-year Guarantee
Le Creuset offers a 10-year guarantee on their mugs which applies from the date of purchase. The guarantee covers faulty workmanship and materials when the mug's used in domestic settings and adhering to the care and use instructions provided with the mug. Unfortunately, the warranty doesn't cover use in commercial settings or normal wear and tear.
Le Creuset Mug History
The French Company formed in 1925 producing cast iron enamelled pots which were formed in large cauldrons hence the companies name Le Creuset which's French for "The Cauldron".
The company grew and started introducing kitchen utensils during the war and carried on even though France had been invaded and occupied. The factory was also very close to the front lines.
A significant amount of strength and determination's was required to keep on going under that circumstance the company just carried on producing their cookware.
The quality and toughness of Le Creuset products reflect the companies stoicism during those difficult times. After the war, the company innovated and released some new products and carried on growing.
Machinery was introduced in the mid-'60s replacing manual casting methods, the machines were semi-automatic, and to this day, all products are still made in some part by hand.
Le Creuset embraced internationalisation between 1975-1985 and further expanded in the mid-'90s into a truly global company with various subsidiaries. Stoneware was introduced in 2001, spawning the much loved Le Creuset Mug.
Click Here For Le Creuset Mugs Prices & Availability