There are several occasions throughout the year when you could buy Mugs for your Grandparents, such as birthdays, Christmas, anniversary or mothers and fathers day. Otherwise, why not give them a Mug for simply being awesome Grandparents.
Your Grandparents will always appreciate a special Mug and here is a selection of mugs specially made for Grandparents.
Mugs are made from various ceramics including stoneware, earthenware, porcelain and fine bone china. Available in a wide range of sizes, colours and designs.
Click Here For Grandparents Mugs Prices & Availability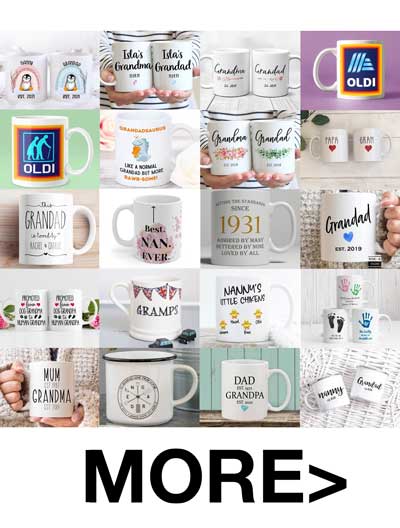 Mugs For Grandparents Include
Emma Bridgewater Grandparents Mugs – Personalised mugs for Nanny and Grandad pick a design and add their name.
Cath Kidston Grandad Mugs – The classic Stanley mug in a range of designs including 'aeroplanes' 'wild west' and gnomes.
Keith Brymer Jones – Grandma and Grandpa written mugs in three different bucket-shaped sizes.
New Nanny & Grandad – Featuring sitting penguins with bow ties in pink or blue includes Est (insert personalised year).
Best – A pair of white ceramic mugs written with 'Best Grandma Ever' and 'Best Grandpa Ever'.
This – This 'Nana' or 'Grandad' belongs to (insert customised name).
Custom Name – 'Baby's name' with Grandma and Grandpa below with customised date.
Oldi – Aldi style logo design with older people silhouette in the middle.
Glam-ma – Too young gorgeous and glamorous to be called Grandma.
Grandadsaurus – "Like a normal Grandad but more rawr-some!".
Setting The Standards – "since (custom birth date) admired by many, bettered by none, loved by all".
Gramps – "The man, the myth, the legend."
Christmas Parents – "Parents est, Grandparents est, Great Grandparents est" with custom dates for each.
Promoted – "from dog Grandma (or Grandpa) to human Grandma (or Grandpa).
Nannys Little Chickens – With four little chickens and customised names.
Only The Best – "Dads get promoted to Grandads".
My Favorite People – "Call me grandad".
Grandparents Again – A pair of illustrated mugs written with "Grandma (and Grandpa) again".
Hand Or Footprint – Personalised mugs with personalised hand or footprint and message.
Enamel – Nanny and Grandad enamel camping mugs with customised 'est' year.
Enamel Gardening Mug – A mug for outdoor use, Grandad will love drinking from this mug while working on the allotment.
Caution Pensioners – With pensioners triangle road sign logo and matching coaster.
This Grandad Belongs To Us – With cartoon children and personalised names.
I'm Not Retired – "I'm a professional Grandma".
Other Grandads, You – With an image of a horse and a pole dancing unicorn.
Probably The Best – "Grandad in the world".
This Grandad Is Loved By – (Enter customised names).
This Grandad Belongs To – (Enter customised names).
There are more mugs for grandparent available. Please follow the link below to view them.