Mugs For Mum perfect for mothers day, birthday's, Christmas and anytime you want to thank your Mum and show your appreciation for her.
A wide range of Mum Mugs is available from various potteries in various designs, colours, shapes and sizes. Mum Mugs are made from ceramics such as stoneware, porcelain, earthenware and fine bone china.
Most Mum Mugs are microwave and dishwasher safe (please refer to instructions and double-check).
Click Here For Mugs For Mum Prices & Availability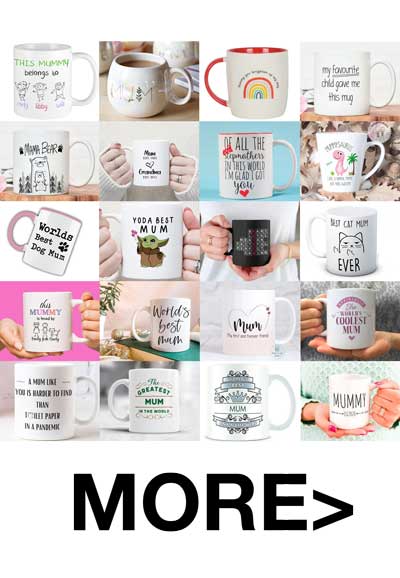 Mugs For Mum Includes
Emma Bridgewater Mum Mug – A range of mugs in classic Emma Bridgewater designs such as floral, polka dot, hearts and stars.
Cath Kidston Mum Mug – A classic Elvington rose floral design mug with a 500ml capacity.
Mums To-Do List Mug – Features a handy to-do list for mum including wine and gossiping.
Iridescent Floral – A 420ml mug with a lovely Iridescent glow and 'mum' wording complete with flowers.
Mama Bear – With paw prints and mum and child bear in the forest drawing.
This Mum – "Is a legend" complete with arrows pointing upwards.
Rainbow Mug – Written with "Mummy you brighten up my day".
This Mummy Belongs To – Add your own custom names of children and pets.
Worlds Best – 'Dog Mum' with a paw print or ' Cat Mum' with Cat picture.
Mum Est – Mum Est (enter custom year) Grandma Est (enter custom year).
Of All The – Evil stepmothers in this world I'm glad I got you.
The Best – Mummy in the world".
Best Mummy Ever – Written one side, personalised photo the other.
Preggs – "The bun is in the oven" designed in a 'Greggs' style logo.
My Favourite – "Child gave me this mug".
So Long Story Short – "I gave birth a couple of times, and now I'm really, really, really tired".
Yoda Best Mum – Complete with baby Yoda image.
Mummysaurus – Like a normal Mummy but more awesome, complete with a picture of a dinosaur.
I'm Not Really A Mumma Bear – "I'm more a Mumma Llama".
Milf – With year established.
Mummacorn – Like a normal Mum but more awesome, complete with unicorn picture.
This Mug Belongs – "To the most amazing wonderful awesome mum ever".
Twin Mummy – With pink and blue hearts and year established.
Dear Mum – "Thanks for putting up with a spoilt, ungrateful, messy, bratty child like my sibling."
Mum – "My first and forever friend".
Mum – "Mothers hold their children's hands for a while, but their hearts forever".
A Mum Like You – "Is harder to find than toilet paper in a pandemic".
Unicorn Mum – "A mother who's not perfect, enjoys alcohol, has a sense of humour and couldn't care less what you think".
Emergency Mum Wisdom – Full of many pearls of wisdom that could only come from a mother.
Friends – "The one where I became a Mummy" written in iconic 'Friends' style writing.
Keep Calm – "I'm going to be a Mum".
My Favorite People – "Call Me Mum".
Out Of All The Mums In The World – "I'm so glad you're mine".
Dear Mum – "I love you" includes a pink heart.
There are many more Mugs for Mum available. Please follow the link below to see them all.