Love Tea? Then you must have the best Mugs for Tea. Don't just buy any old mug. The chances are you'll be selling yourself short with a subpar brew. Use this guide to pick the best Mug for your unique Tea preferences.
The best Tea mugs for you will depend on the size, shape and material of the Mug and how you like your Tea and the type of tea you want to drink.
All factors will make a difference to your Tea drinking experience.
How Do You Like Your Tea?
Please follow links for mugs suitable for your preferred strength of Tea.
Tea Mug Sizes
The size of Tea Mug will affect the brew strength unless you are brewing in a Teapot.
Brewing a single Teabag in a smaller mug of around 280ml will produce a more potent punchier brew.
Brewing a single Teabag in standard to large mugs of between 330-400ml will have a mid-strength brew.
Brewing a single teabag in a large to a giant mug of 500ml and over will produce a weak brew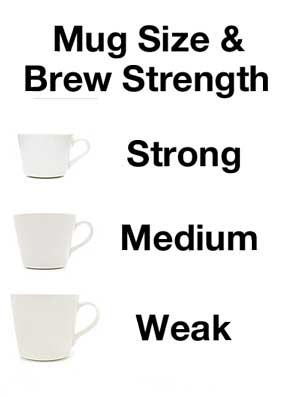 The type and make of Teabag will also affect the taste. Some are more potent than others, and everyone has their own favourite.
If you're brewing directly in the Mug, choose the size accordingly. If you brew in a Teapot, choose a mug size based on your preferred drink size.
If you like more potent brews, the Emma Bridgewater Mugs are perfect with a capacity of 284ml.
For mid-strength brews take a look at the wide range of Large Mugs most have capacities of 350-450ml.
For those who like weaker brews, a Giant Mug is in order.
Tea Mug Shapes
Tea Mugs are available in a range of shapes. For the best Tea brewing results opt for Standard, Tapered or Bell-shaped Mugs. Other shaped mugs such as square, tall, conical and wide are available but are more suitable for drinking Coffee than Tea.
The standard shaped Mug is the most common uniform shape from top to bottom, which works well for brewing Tea. Cornishware Mugs are a great example of the standard build. Standard shaped mugs are usually standard sizes of 280-350ml although giant versions are available.
Tapered Mugs are wider at the top than the bottom, an excellent shape to brew Tea, they are generally larger than standard mugs. Tapered mugs are available from most manufacturers in a range of styles, tapered shapes and sizes. Keith Brymer Jones Mugs are a favoured tapered mug amongst Tea drinkers with three different sizes for mild, medium and potent brews.
Bell Mugs are dumpy at the bottom and narrower at the top with a flared lip. The wider body lends itself to neat Tea making and a unique brew. The Denby Craftsmen Mugs are bell-shaped.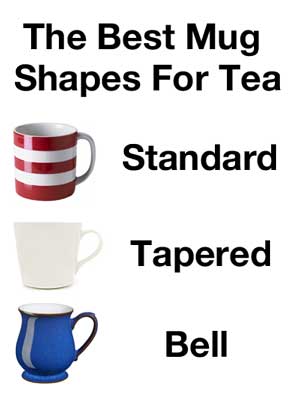 Tea Mug Materials
Mug ceramics fall into five different categories.
Stoneware – A tough and cost-effective opaque ceramic used for both budget and high-end mugs
Earthenware – A desirable look and feel but not the best ceramic strength-wise
Porcelain – Extremely strong and durable
Bone China – A tough ceramic that allows the production of thin mugs often deemed a luxury ceramic
Glass – A sleek and modern alternative to ceramics
Price
As a general rule of thumb Stoneware mugs are the cheapest, Fine Bone china mugs are the most expensive while Porcelain costs more than Earthenware and Glass Mugs.
While you may pay more for Bone China and Porcelain, you can be sure they will last longer, as they are less likely to chip or break if dropped.
How Ceramic Effects Taste
The type of ceramic you drink from will affect the taste of your Tea. All four ceramics are non-porous meaning they won't leach into the Tea affecting the flavour.
Everyone's brewing techniques are different (how long you leave the tea bags brewing in the Mug or teapot). Apart from brewing the effect on taste is down to the heat retention and the cooling rate, all of which vary with the different types of ceramics and the Mug shape.
Stoneware – Stoneware Mugs such as Le Creuset are thicker than Porcelain and Bone China Mugs retaining heat for longer
Earthenware – Earthenware mugs such as Emma Bridgewater are slightly thinner than Stoneware, so heat retention is reduced but still better than Porcelain and Bone China mugs
Porcelain – Tea in Porcelain mugs have been found to cool slightly quicker than Stoneware and Earthenware Mugs. Keith Brymer Jones makes Porcelain Mugs.
Bone China – Bone China are the lightest and thinnest mugs which feel great in hand but cool the quickest. Wedgewood make Fine Bone China mugs.
Glass – The most lightweight of all but has lower heat retention than ceramics, check out Bodum's range of glass mugs.
Are Higher Heat Retention Tea Mugs The Best?
Yes and no, it all depends on the drinker some people like their drinks to stay hotter for longer while others like their Tea to cool quicker to drink it sooner after brewing and drink more of it.
What are your preferences? If you want your Tea to stay as hot as possible, then go for a Stoneware mug. If you like your Tea to cool quickly, go for a Bone China or even Glass mug. If you're somewhere in the middle go for an Earthenware (towards hotter for longer preference) or Porcelain mug (towards cooler quicker preference).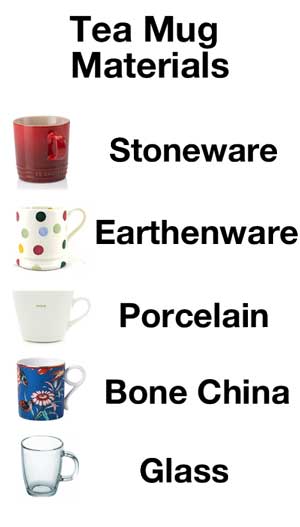 The Tea Mug Taste Test
Brew your Tea for the same amount of time in one of each of the four ceramic mugs, add the same amount of milk and sugar and you'll get four slightly different tasting Teas. Why? Because they are four different ceramics.
We can not tell you the exact taste difference, but you can find out for yourself with the ceramic taste test, here's how you do it.
Buy one Mug of each type of ceramic.
Brew 4 cups of tea using the same amount of water, milk and sugar (a measuring jug will help)
Try each one and see which one you prefer.
Once you have established your preferred ceramic, you can experiment with shapes and sizes if you want
Now you know your preferred type, size and shape of Mug you can buy a set for your home.
Now, this may seem like a lot of hassle, but it isn't when you consider that the average brit can drink up to 1500 cups of tea per year, some even drink more than this.
You will be left with three mugs you won't drink from, which is ok. Mugs purchased in singles are inexpensive, and you can use the leftovers for guests.
After the test, you will know once and for all the best type of Ceramic Tea Mug for your unique taste preferences.