Mugs For Coffee come in a range of sizes, designs, materials and makes. The best Coffee Mug for you will depend on several factors such as the Coffee you like to drink and how you like your coffee to taste.
Coffee Mug size, shape and material make a difference to the overall taste and experience. Therefore it's crucial to pick the best Mug for
your individual needs. Use this guide to find the perfect Coffee Mug for you.
How Do You Like Your Coffee?
Please follow links to show ideal Mugs for your preferred type, size and strength of Coffee.
Types Of Coffee & Best Mug Size
When buying a Coffee Mug or cup the first thing to establish is the type of Coffee you like drinking and the size you prefer. You may want a small flat white of 150ml or a huge Americano of 450ml. When picking a Coffee mug, choose one in proportion to the size of Coffee you like drinking.
| | | | |
| --- | --- | --- | --- |
| Coffee Type | Small | Medium | Large |
| Instant | 200ml | 350ml | 500ml |
| Filter | 280ml | 390ml | 500ml |
| Espresso | 40ml | N/A | 80ml |
| Macchiato | 40ml | N/A | 80ml |
| Ristretto | 20ml | N/A | 40ml |
| Mocha | 150ml | 275ml | 400ml |
| Flat White | 150ml | 225ml | 300ml |
| Cappuccino | 150ml | 275ml | 400ml |
| Americano | 200ml | 325ml | 450ml |
| Latte | 200ml | 350ml | 500ml |
Coffee Mug Shapes
Unlike Tea Mugs, the best Coffee mugs are always tapered, whether you're drinking a small black or a giant Latte. For some reason, Coffee still tastes better in a tapered mug. This is why the leading Coffee shop chains use them to serve their customers. The only exception is the smaller coffee shots (Espresso, Macchiato, Ristretto) which work with tapered and uniform shaped mugs.
Mugs for lattes are generally tall and slim and get taller as the drinks increase in size. A tall mug retains heat well, sometimes to well. Conical Glass mugs are often used to allow sufficient cooling, ideal when on the move or in a rush, such as first thing in the morning before getting ready for work.
If you prefer your Latte to stay hotter for longer, then a ceramic mug's better. Useful for when you have time to savour your Latte, times such as sitting in front of the television in the evening.
Mugs for all other Coffees are more uniform with the right balance of height and diameter. As drinks get larger, over the 400ml mark Coffee mugs and cups get wider instead of taller. The wide surface area allows the drink to cool in-adequate time for drinking.
Pick a Mug shape based on the type of Coffee you like drinking. As a general rule of thumb always pick a tapered design with a smaller base than rim (except if you're a shot drinker then a standard shape will be ok too). For Latte's go for a taller mug and all other Coffees go for the shorter dumpier designs.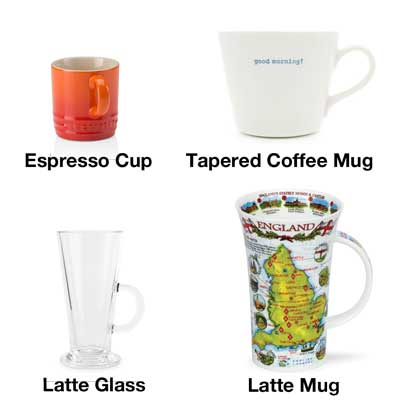 Coffee Mug Materials
Coffee Mugs are generally made from a glazed ceramic or glass. Each has slightly different characteristics, advantages and disadvantages which affect your overall Coffee drinking experience.
Stoneware
Stoneware is a rigid, cost-effective ceramic and excellent heat retainer. Stoneware mugs are usually thicker and heavier than mugs made from the other materials.
Earthenware
Earthenware is more porous than stoneware, lighter, thinner but slightly less durable. Many popular UK made coffee mugs are Earthenware made from locally sourced clay.
Porcelain
Porcelain is more robust than Stone and Earthenware a more luxurious higher end material that retains it's shine and colour and is harder to chip or break. The toughest of all ceramics with better heat retention than Bone China but generally not as good as Stone and Earthenware.
Bone China
The properties of bone China allows for a thinner construction which gives a nice feel on the lips when drinking. Bone China's usually used for top-end luxury mugs. Heat retention is lower when compared to the other ceramics due to the thinness of the mug.
Glass
Glass is lightweight and will most certainly break if dropped. Easy to clean, a favourite of many Coffee shops. Coffee cools quickly in Glasses unless they are double-walled.
Bone China Coffee Mugs are usually the most expensive, then Porcelain, Earthenware and Glass. Stoneware's generally the cheapest, but there are some high-quality Stoneware Coffee Mugs on the market.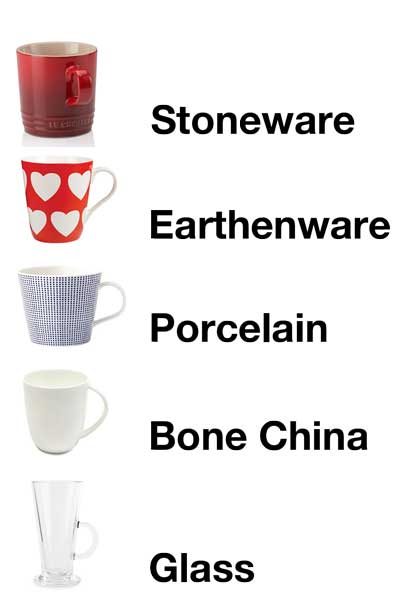 Does Mug Ceramic Affect Taste Of Coffee?
Yes, Coffee will taste different depending on what type of vessel you drink from. Ever had your favourite Coffee in the shop one day and took away the next? If so you'll know the same Coffee tasted better in the ceramic cup than the cardboard cup.
How Do I Determine The Best Ceramic For Taste?
To determine the best type of ceramic for your unique taste will involve buying five different Mugs, one of each material. Throughout the day, make a coffee cup to the exact specifications (same amount of coffee, milk, sugar, water etc.) in a different mug. Do this for several days until you have picked your favourite type of ceramic you can stick with that Mug for your Coffee, or buy a set of those mugs.
Recommended Mugs For Every Type Of Coffee
Here's a list of Mugs recommended on the Coffee type and the size of the drink

Le Creuset Espresso Cups
Le Creuset Espresso Cups are ideal for Coffee shot drinkers with a 100ml capacity, more than enough for a single or double shot. Stoneware construction with an enamelled finish and various colours on offer.
Whittard Latte Glass
The Whittard Latte Glass is typical of what you'll be served in a coffee shop. Conical construction with a 260ml capacity ideal for smaller lattes.
Bodum Canteen
A double-walled coffee glass, the liquid looks like it's floating. Will retain heat without burning your hands available with handle or handles in various sizes. The 350ml version is perfect for medium latte's.
Dunoon Glencoe
Dunoon Glencoe Mugs are tall flared Coffee Mugs with a 500ml capacity which works great for large latte's. Many intricate designs available following various themes.
Royal Doulton Coffee Studio
Royal Doulton makes high-quality Porcelain Coffee Mugs. The Coffee Studio range is available in a range of sizes. The 270ml version suits smaller coffees such as flat white. The Mugs give off that relaxed coffee shop vibe.
Keith Brymer Jones Bucket
Keith Brymer Jones has a huge range of 'Bucket Mugs' with a standard size of 350ml (smaller and larger sizes are also available). The mugs are white with small lettering in various messages and colours.
Cath Kidston Stanley Mug
Cath Kidston Stanley mugs are the perfect shape for a large Coffee. A flared design with a big handle. Available in a wide array of colourful designs in Earthenware or Finebone China. What more could you want from a Coffee Mug?